Servo Drives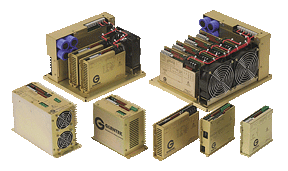 Brushless Servo Drives  
High performance, fast response,
ready-to-use.
Now Available in Digital and Analog!  
OVERVIEW
CONTREX Brushless Servo Drives (aka Amplifiers) are designed to offer the latest in high performance servo technology in a ready-to-use package.  That means no more searching for add-on isolation transformers, I/O cards, and regen modules - because they're built-in.  Available in Digital or Analog types, and Stand-Alone or Multi-Axis packages.  
FEATURES
Compact design with built-in regen, I/O, and isolation 
Sinusoidal commutation for ultra smooth performance
Accepts +/-10 VDC input command 
Encoder or Resolver feedback options
Configuration Software (if Digital drive is selected)
Select your drive type and size  - or let us help by calling 800-342-4411 
Content coming soon!
Digital - Single Axis BLDC Servo Kits

Size

Kit Part Numbers:

120 VAC 1-Phase

230 VAC 3-Phase

Torque

Stall / Peak

(lb-in)

Speed

Rated / Max

(RPM)

Frame

Size

Horsepower

@ 2000 RPM

Motor &

Amp Details

 XS

3100-3010

3100-3110

23 / 70
3000 / 5000

Metric 80 mm

0.73

 

 S

3100-3020

3100-3120

26 / 78
3000 / 5000

Metric 130 mm

0.82

 

 M

3100-3030

3100-3130

43 / 129

3000 / 5000

Metric 130 mm

1.36

 

 L

3100-3040

3100-3140

63 / 189

3000 / 5000

Metric 130 mm

2.00

 

 XL

3100-3050

3100-3150

94 / 283

2000 / 3000

Metric 130 mm

2.98

 

 XXL

3100-3060

3100-3160

98 / 291

2000 / 3000

Metric 180 mm

3.11

 
Analog - Single Axis BLDC Servo Kits - 120 VAC Single Phase

Size

Kit Part Number

Torque

Stall / Peak

(lb-in)

Max Speed

(RPM)

Frame

Size

Horsepower

@ 2000 RPM

Motor &

Amp Details

XS

3100-2000

21 / 68

3600

NEMA 56C

0.57

 

S

3100-2001

39 / 118

3600

NEMA 56C

1.04

 

M

3100-2002

54 / 110

3600

NEMA 56C

1.54

 

M

3100-2003

54 / 167

2000

NEMA 56C

1.54

 

L

3100-2004

68 / 215

2000

NEMA 56C

1.85

 
Standard cable lengths are 10 foot- other lengths available upon request

Standard encoder PPR is 1024 - consult factory for other options
Amplifiers
CXB1525-0984C12-1A-1-00 (5220-1490) Single Axis Stand Alone Amplifier; 15A cont.; 25A peak; 120VAC Single Phase

CXB1525-1984C12-1A-1-03 (5220-1496) Single Axis Stand Alone Amplifier; 10A cont.; 25A peak; 230VAC Three Phase

CXB2040-1984C12-1A-1-03 (5220-1497) Single Axis Stand Alone Amplifier; 15A cont.; 35A peak; 230VAC Three Phase

Consult the factory for replacement or spare motors and cables

  CXB Amplifier Operation and Service Manual (909KB PDF)