ML-Drive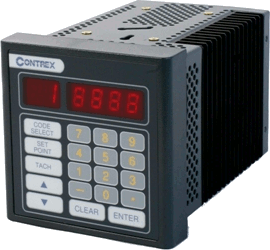 Digital Motion Controller with Built-in 1/4 to 2 HP DC Drive
OVERVIEW
The ML-DRIVE is a cost effective integrated motion controller + DC drive.  The built-in SCR drive can handle up to 2 HP Permanent Magnet DC motors and has a settable current limit of 0 to 10 Amps.  The digital motion controller provides closed-loop speed regulation for applications that require precision speeds and ratios.  The MLP-DRIVE has all the capabilities of the original ML-DRIVE, but with an Analog Input and zero cumulative error in follower mode.  
FEATURES
No complicated programming required

Speed controller with built-in DC drive for up to 2 HP motors

10 millisecond control loop for precise speed control 

Optical isolation to protect against electrical noise
Built-in LED display can be scaled to engineering units such as feet-per-minute
Blending:  Metering pumps, screw augers, feeder conveyors can be precisely ratio controlled for perfect recipes

Conveyors:

  Process conveyors or transfer conveyors can be coordinated with precision.  Product spacing can be adjusted.  Inverse "time-in-oven" setpoints are available.

Web Drives:

  Film, paper, fabric processing with dancer control.  Use simple on-off photo eye for loop control, or use dancer pot or sonic sensor.


Extruders:

  Maintain constant volumetric die flow rates.  Precisely control take-away conveyors, cooling conveyors, sizing rolls and other downstream motors in extruder processes.  Many more applications in blown film lines and coextrusion processes as well.

Separate Models for 115VAC input (1 HP) and 230VAC input (2 HP)